Step 1)  Download the files here: [ Curacao – Starter Preset and Mobile Icons ] .  And by the way, here are what the files look like: 
Step 2)  Install the presets.  If you use Lightroom CC (7.3 or later), there is an Import Presets feature located at Edit > Presets > the " … " button > Import Preset
If you use Lightroom Classic, go to Preferences.  This will open a new window. In this window, you will see a tab labeled "store presets with this catalog". Make sure this is unchecked.
Go to the "Presets" tab and click on the "Show Lightroom Presets Folder" button. That will open Adobe folders on your computer.
Click to open the "Lightroom" folder. Then click to open the "develop presets" folder.
If you have not installed any presets you will only see a folder called "user presets". Do not install your presets in the "user presets" folder. If you have installed other presets in the past, you will see them listed in the "develop presets" folder. Copy the presets that you downloaded and paste them into the "develop presets" folder. 
Step 3)  How to install presets on Lightroom CC Mobile (optional).  If you only want to use these presets on your desktop, you're done!  But if you would like to use these presets on Lightroom CC Mobile as well, import the 5 .jpg files into an album then match the preset with the appropriate icon.  Next time you want to use the preset on your phone, simply use Copy Settings and Paste Settings.  That's it!
See example below of how I set up my Mobile Presets on Lightroom CC:
See an example of how it would look like on your phone: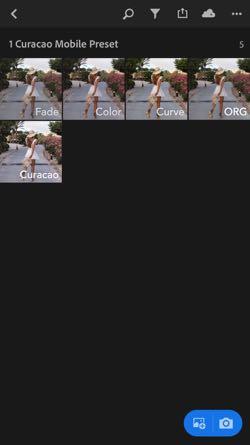 Use the Copy Settings feature from the picture where you want the preset from: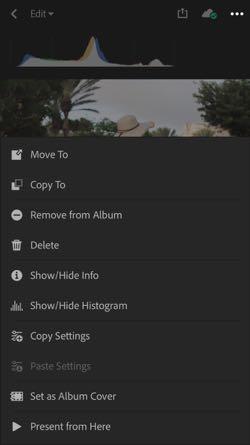 Step 4)  Learn about what these presets do!
"Original" simply sets all your settings back to 0, super useful for every beginner to have.
"Color" adjusts the hues and saturation of certain colors.  Greens are deeper and darker.  Blues are a bit more teal.  Orange/yellows are a bit less saturated.
"S-Curve" is a common component of many presets and I've made it on its own, just so you can play with it!  The tone curve is shaped like a slight S so dark shades are dark and whites are white, it gives it a dramatic feel.
"Fade" is something that I've been using a long time.  I use a slight fade on all most of my pictures to give it a dreamy vibe.
"Curacao" COMBINES the effects of all of the above presets, tada! :D
If you're a PRO, just delete everything except the Curacao preset.  Remember that you will need to adjust exposure and shadows based on the situation in your photo.  I hope you like this preset and the Mobile Icons idea. 
Please be sure to leave a comment on my IG or email me and I will get back to you ASAP! 
Love,
Kerina
(Visited 24 times, 31 visits today)