Hi Mango Babes!
One of the most popular questions that I get asked every single day is about my hair; what do I use, what do I do, and how is my hair so long and healthy! I decided to write this blog post to explain everything, starting with 5 things that I do to get healthier and shinier hair. Hopefully, this will answer most of your questions!
Let's Begin.
1. Eat Clean: 
Eating healthy is something that really affects the health of your hair and how it looks. When I started eating whole foods, reduced the amount of sugar and salt that I consumed, and ate a lot more green vegetables I noticed the texture of my hair changed! It became a lot more thick, long, and it even developed a shine to it!
2. Drink More Water: 
This point goes right along with #1, but drinking more water is also vital to have healthy looking hair. I try to drink about 10 cups of water every single day which helps my hair and also my skin (water is the key to everything!). If you're like me and is not a big fan of bland tasting water, I recommending adding a few lemon or strawberry slices to add some flavor to your water (and hello Vitamin C boost)!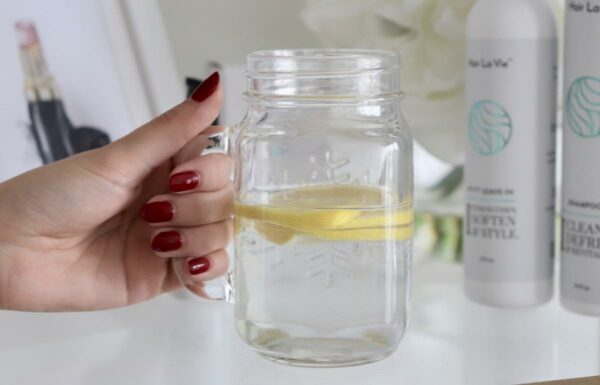 3. Use A Natural Shampoo & Conditioner: 
I find it's very important to use a natural shampoo & conditioner because you want to make sure you are feeding your hair healthy natural products. I remember in the past when I switched to high quality products while my roommate stayed with her usual drug store brands.  Not only did my hair feel silkier and lighter than hers after a wash, it stayed that way for much longer.  My hair does tangle but it detangles just as easily with brushing because I always remember my conditioner!
Currently I'm using Hair La Vie's Shampoo which is SLS free, Paraben free, has no harmful chemicals, and is cruelty-free. It is made up of Keratin, soy proteins, silk amino acids, vitamin B5, D3, and E, and tons of oils including tea tree oil, rosemary oil, peppermint oil, argan oil, coconut oil, avocado oil, and jojoba oil. At first I was skeptical about trying a brand that I've never heard of, but Hair La Vie's products really transformed how I feel about the my hair and the beauty industry. I am so happy that the products don't have the cheap harsh chemicals, synthetic additives, fillers or binders that are widespread throughout the beauty industry.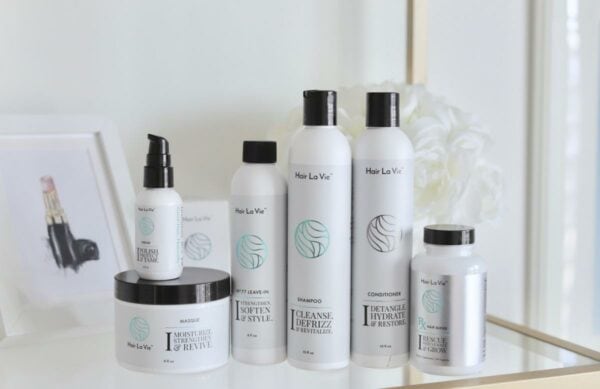 Hair La Vie's shampoo and conditioner really works for me. As much as it's important to feed your body healthy food, it is equally as important to feed your hair healthy products to!
4. Wash Your Hair Less Often: 
When I was a teenager I would wash my hair every single day and for some reason, it always looked oily! Since I stopped washing my hair as often (I now wash it 2-3 times a week), it has grown much longer and feels so much thicker. Also, it rarely looks oily anymore! Over washing your hair can cause breakage and will damage your hair in the long run.  Your scalp has plenty of natural and healthy oils to feed your hair, assuming you are eating right of course!
5. Take Vitamins:
When I started eating healthy, I also decided to start taking vitamins to aid in the health of my body, hair, and skin. I take Hair La Vie's RX Blend vitamins which features three special ingredients: Cynatine HNS (a form of Keratin), EvnolMax (made from Vitamin E), and USPlus Saw Palmetto (prevents the hormone that causes hair loss).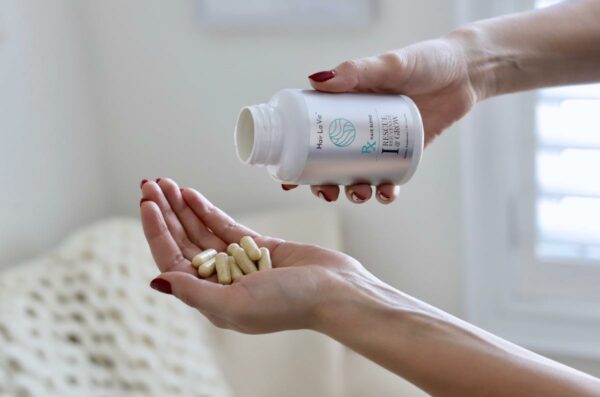 This vitamin works for both women and men. It is also SLS free, Paraben free, has no harmful chemicals, and is cruelty-free. I take one capsule in the morning and two capsules in the evening with a meal and a full glass of water! I have been using these vitamins for almost a year now and I have seen a huge difference in the thickness, length, and shine of my hair.
---
Those are 5 tips on how to get thicker & shinier hair! Let me know what tips you have in the comments down below. Have you tried out any of my tips?
Love, Kerina