Hi Bunnies!
I hope you are all having an amazing fall! I just got back from a beautiful trip to Vermont where it was also the fall season so luckily I got to bring all my favourite fall pieces with me!
In today's blog post, I wanted to share with you 7 fall wardrobe staples that I think every girl NEEDS. These pieces are perfect to create so many different amazing looks with.
So let's begin.
Over-the-Knee boots!
You have seen me wearing OTK's in so many pictures on my Instagram but I can't emphasize enough how much I love them. Not only do they dress up an outfit, make your legs look longer, but they just make me feel SO much sexier when I wear them. OTK's are a staple in my closet!
2) Cropped Sweaters:
I am all about the cropped sweater look! I love pairing a cropped sweater with high-waisted jeans or a cute skirt! Cropped sweaters are a staple in my fall wardrobe and they are typically what you will see me wearing!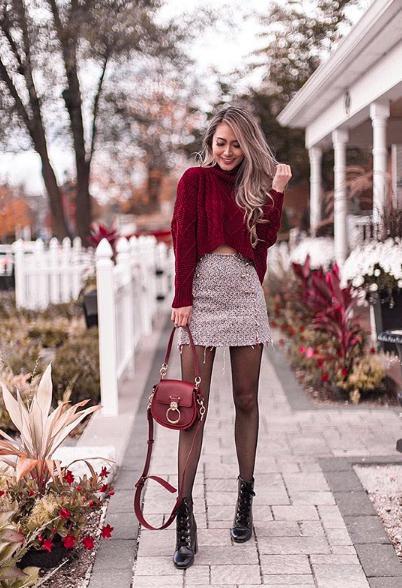 3) Ripped Jeans:
I LOVE the look of ripped jeans. I have so many ripped jeans but I like that these jeans are only slightly ripped so they look a little bit more classy plus they keep you warmer! Ripped jeans with a cropped sweater or a cardigan are the cutest and most effortless fall look.
4) A Fall Hat:
One thing I love about fall fashion is that I can rock so many different types of hats. I love the look of adding a cute fall hat to my outfit to complete my outfit. If you are going on a fall hike or if you are going to visit a pumpkin patch, you NEED a fall hat.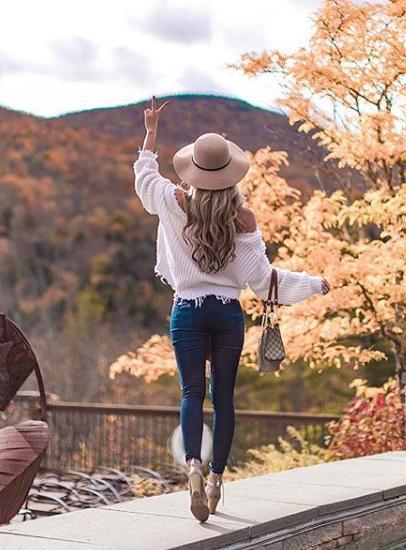 5) Simple Skirts:
I love dressing up so I take full advantage of the not-yet-winter weather by wearing skirts as often as I can during the fall season. I have TONS of "fall" skirts like the one in the picture down below. I love wearing a cute skirt with a baggy sweater. It makes me feel so cute!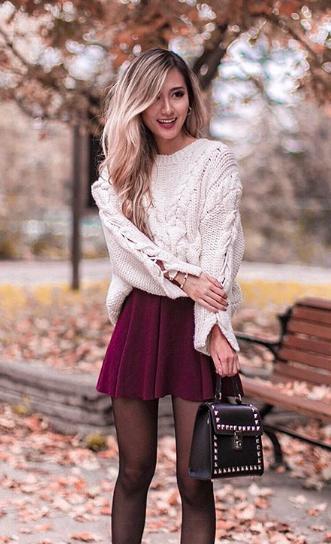 6) A Fall Scarf:
When it starts to get colder outside, a scarf is super necessary. Scarfs make a great accessory and they really add something extra to an outfit. Plaid scarfs are super in this fall season and I'm not mad about it!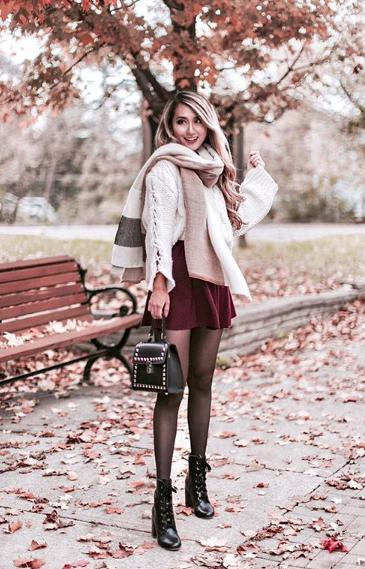 7) Sneakers:
I am a sneaker girl so I love taking advantage of the cooler weather by bringing out all of my runners. Did you know that I have a sneaker collection!?! Sneakers are not only so comfortable but they give an effortless vibe to almost any outfit. I love them!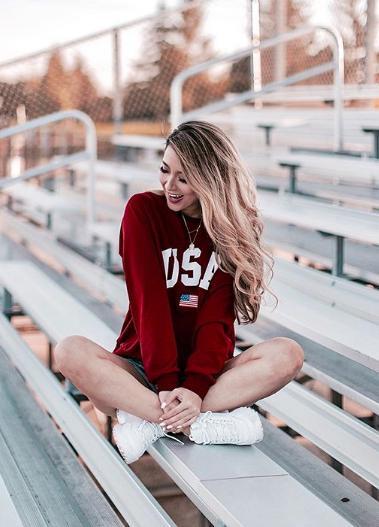 ---
Those are 7 of the fall wardrobe staples that I think every girl needs! What is your favourite fall essential? Let me know in the comments down below.
PS. Want to keep up with ALL THE BLOGGER TRENDS THIS FALL? 
Then follow my Fall Styles Pinterest board!