Hi babes!
Full disclosure, I have worked with Missguided in the past and enjoyed trying on 150+ their pieces over the years.  They are more of an edgy and trendy affordable fashion store.  I don't expect perfection when the prices are relatively low.  However, I'd be lying if I said I don't expect to be excited about their cute and unique designs.  Like the many fast fashion brands I review, I'm focused on sorting through a large selection and finding gems in the rough.  In the end, I'll leave it to you to make an informed decision!
A Years of Try On Hauls From Yours Truly
I hope I can convince you that I have quite a lot of memories with trying Missguided pieces.  Pictured below: sold out (already!) vintage sweater and shirt set for only $26.  Who wore it better?
I have a long record of Missguided hauls on Youtube.  I think I have a general sense of how to review Missguided!  Tap on any link to watch my Missguided

hauls below:
HUGE MISSGUIDED TRY ON HAUL | FALL WINTER 2020
WINTER TRY ON HAUL ft. MISSGUIDED | Affordable & Trendy
MISSGUIDED TRY ON HAUL | transitional weather // early fall late summer looks
For those who are semi-convinced, and want a review of other aspects of the brand (like Shipping, Customer Service, etc), keep reading!
Trendy?
I would define Missguided as ultra-fast fashion.  They stuff are very on trend and ranges from sweet to sexy.  To stay on top, they have daily new arrivals and are designed to compete directly with stores like Forever 21 and NastyGal.  They have a LOT of variety when it comes to styles and categories.  Just take a look at their New Arrivals options:
Trending pieces are labelled clearly and their pictures have great aesthetics:
True to Size?
Missguided is usually true to size and has plenty of sizing guides right on the product page.  They say they're a well vertically integrated fashion company, that means they do a lot of the design and sizing under 1 roof.  When I ran ShopMangoRabbit, having to buy from different wholesalers, who have various suppliers, resulted in many sizing issues!  I appreciate it when a large company can quality control much better than I ever could.  I have found that Missguided is often true to size, as do many reviews: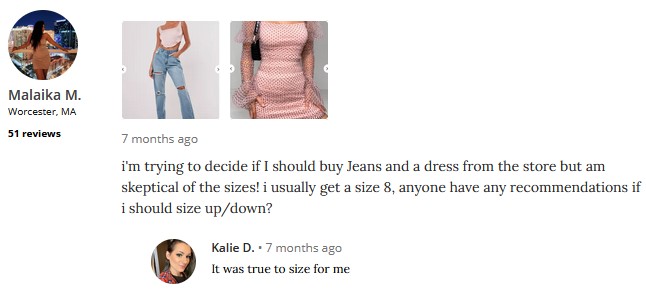 Review from Influenster
All Shapes and Sizes
Missguided's website offers a variety of fits right on the top menu.  There are 4 main categories; Plus, Petite, Tall and Maternity.  Exploring their plus section will yield plenty of selection, they have many types of Plus size apparel ranging from co-ords to bodysuits.  If you want to see a Plus sized focus review, I suggest Laura's blog here.
The Petite section is for girls below 5'2″ (Petite) and Tall is for above 5'7″.  They have a nice range for these body types as well.  However, do note that at size 00 (Petite) and size 22+ (Plus or Tall), their sizing chart does not have the exact measurements.  All you can really do is research and assume a few inches of difference between each size.  Nevertheless, their range and commitment to alternative sizes is impressive, notice all the sub-categories for each section, and you will find plenty of inventory for each:
As of writing this blog post, I will be testing their maternity sizing very soon!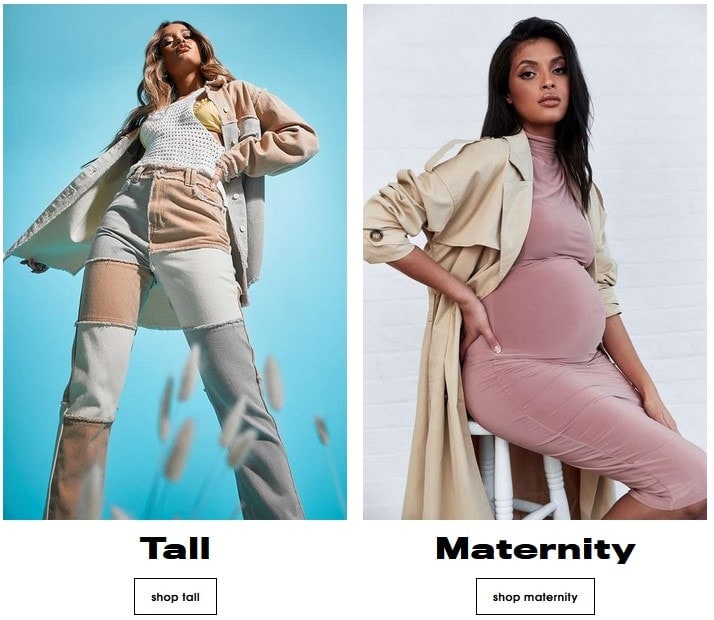 Shipping to USA
From the UK, expect 5-10 days for shipping under normal conditions.  Their average delivery time is relatively fast.  Under 800USD worth of goods should have ZERO duties because it's already paid for.  For the same increase in price, I suggest their Express option which will usually be shipped with DHL!
Detailed Shipping Options as of April 2021 – days always exclude holidays:
Standard Shipping –

$8 – 6-9 business days

Orders placed by 5pm ET/12pm, cheapest ground mail option likely

Express Shipping –

$13 – 2-3 business days

Orders placed by 2pm ET, DHL

Super Express Shipping –

$16 – 1-2 business days

Orders placed by 2pm ET, Fedex
Shipping to Canada
As usual, shipping to Canada is more difficult!  I've received countless packages from Missguided just fine, don't worry, but I know that those in the USA have it a bit better in this department.  I prefer express shipping anytime I'm ordering international shipments, they often get away with smaller duties and packages rarely get lost.
Standard Shipping – CA$11 – 9-13 business days 


Orders placed by 2pm, Canada Post. 20-30% Canada Customs duties sometimes occur!

Express Shipping – CA$33 – 2-4 business days


Orders placed by 2pm, UPS. (excludes weekends, public holidays and federal holidays).  20-30% Canada Customs duties sometimes occur!
Overall Shipping Reviews
Overall, for a store shipping out of the UK is not easy and on average they ship faster than their own advertised 6-9 day guideline.  See stats from Reviews.io: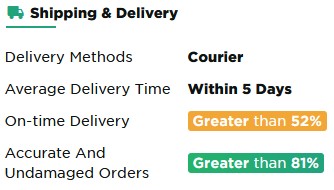 Returns or Exchanges
Personally, I do not bother returning or exchanges because the cost and effort to ship it back to the UK from Canada feels too much.  I usually opt to resell or donate a piece of unwated clothing.  If you prefer otherwise, I've summarized their policy below:
Deadlines: original packaging with tags, within 28 days of delivery.
Fees: Customers in the US can return for $8.25 USD and for Canadian customers the cost is $13.00 CAD.
No returns for: pierced jewellery, face-masks, cosmetics or perfume, or any underwear or swimwear where the hygiene seal has been removed.
Customer Service
To be honest here, I don't expect much from Customer Services in general and I try everything to avoid having to contact them.  Who else dreads having to submit a support ticket for anything?  But that's not on the staff!  Behind our screens, we know these are real humans taking on issues for 8 hours straight (sometimes more).  When there are complaints, it's usually it's the shipping company (ie. USPS, Canada Post) that is in control. 
Missguided offers the traditional live chat and email support. 

They also have a direct Twitter and Facebook Messenger line and claim replies within an hour.  Honestly that is relatively fast for this industry if true.  If you have any experiences with this please let me know in the comments below.
When contacting any sort of support, remember to keep your ORDER NUMBER handy.
Is Missguided Legit
Yes. 
Reviews from Others
With the prevalence of fake reviews, both good and bad, it's hard to gauge who to trust anymore.  This is why people watch video review and try on hauls.  When I create try on hauls, I verify with my own eyes and not just from what I see on the internet.   Nevertheless, here are a collection of large review sites to see reviews from others as of April, 2021:
| | |
| --- | --- |
| reviews.io | 2.75 / 5 , 1,045 Reviews |
| influenster | 4  / 5 , 1,200 Reviews |
| sitejabber | 2  / 5 , 300 Reviews |
Personally when I'm reading reviews from others, I look out for those who have a LONG HISTORY of reviews.  Below is an example of a influenster.com review I would trust, I love that she has 310 reviews on the site and provides nice pictures as well: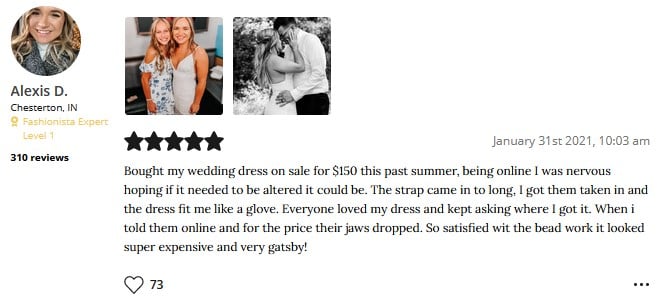 As for myself, I've held enough Missguided pieces in my own hands.  I'm quite confident that my own reviews are legit haha.  This blog post is NOT sponsored, it's something I've been meaning to write for every brand that I have a long history with.  It's up to you to decide if you want to try a piece or a brand.  Remember, fashion companies can change year to year, season to season, and designer to designer.  Good luck!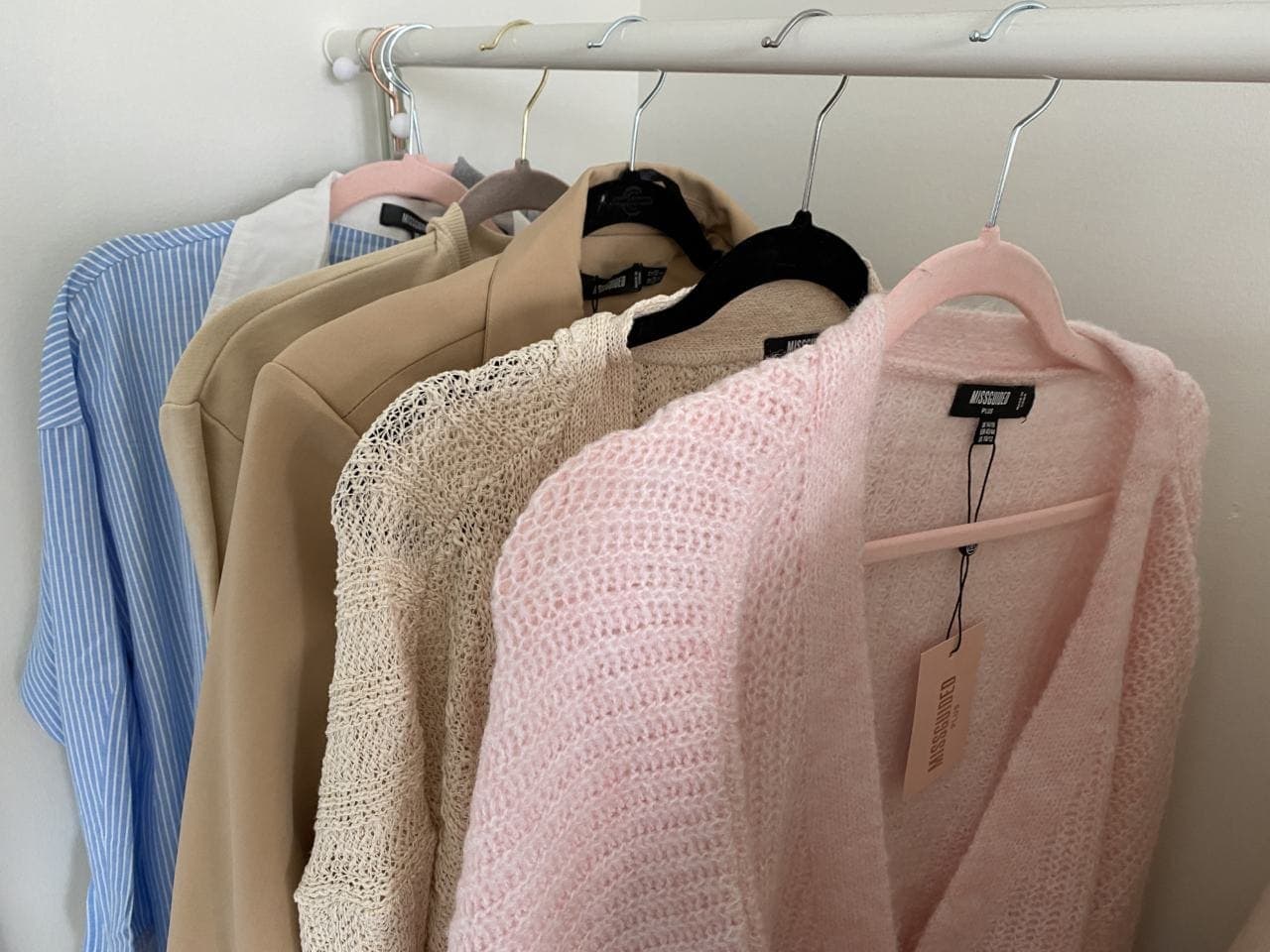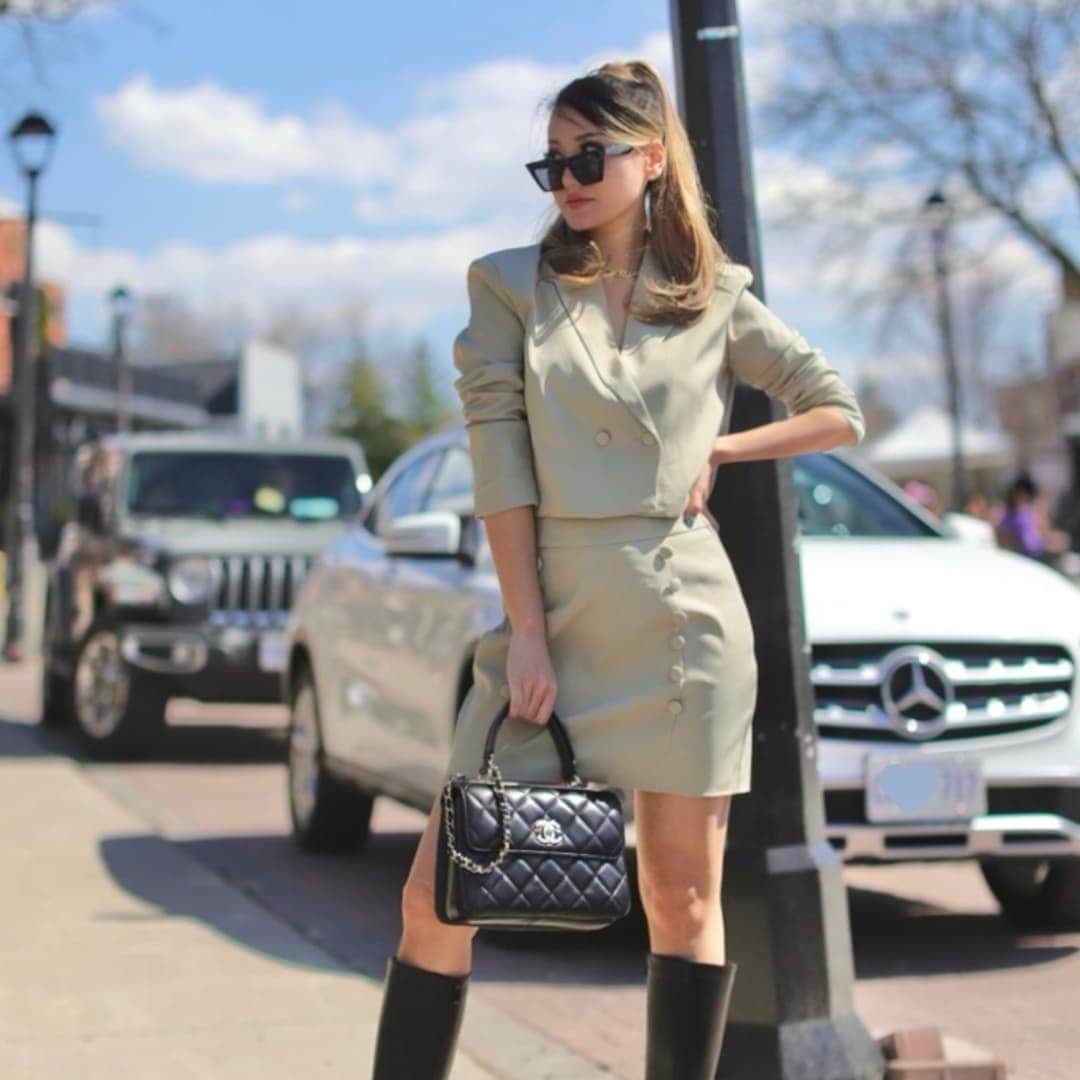 My Recent MissGuided Pieces
Here are some pieces from my recent haul, tap on any picture to see if it's still in stock!
Discount Code
 KERINA15 for 15% off (location restrictions apply)