Hi babes!
You'll know I've done A LOT of SHEIN reviews! I even wore them to my recent trip to the Maldives. They are one of my favourite brands since I go through so many outfits and need to be on top of all fast-fashion trends.  In addition, I love discovering cute outfits at affordable prices for you guys. It really saves you both money and time. There is nothing worse that dealing with the returns department at virtually any online store!
Let's get you stocked up on cute summer gear. The fashion world keeps expanding and it is important that we expand our horizons along with it. Luckily, most of these SHEIN crop tops are still on sale and not sold out.  Make sure you read the reviews or check out my Youtube try on hauls to be totally sure.  If you are buying, be sure to use KERINA15 for 15% off! 
TOP RECOMMENDATION: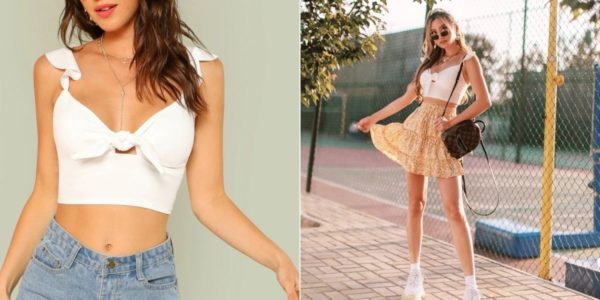 White crop top knotted: SHOP NOW ($9 ON SALE, 800+ ★★★★★ reviews)
This is a top SHEIN review because I've had to use this piece over and over again in my photos.  It's held up very well, is distinct enough as a small statement but also pairs with just about anything.  It's also one of the most reviewed and highest rated tops on SHEIN! I especially like the color, you can do all sorts of combinations with it. If you feel like it, you can combine it with a pair of light blue mom jeans, or go for a random cheeky skirt. Honestly, anything will fit perfectly well with it. It definitely has an undertone of royalty.
Looking for something cute and simple?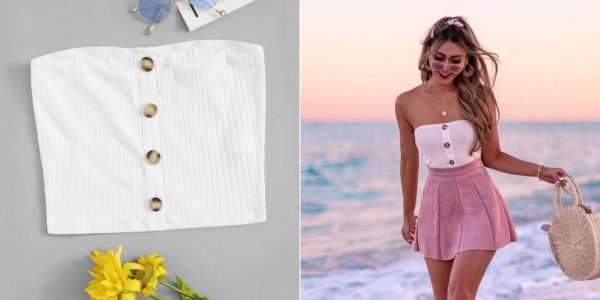 White Buttoned Bandeau Top: SHOP NOW ($6 ON SALE, 200+ ★★★★★reviews)
This cute bandeau top is so affordable and basic that you don't have to hesitate to buy one.  It is stretchy and comfy enough to wear just about anywhere warm. Imagine walking the shorelines of the nearest beach to your house in this pink miracle! It's so simple and yet it satisfies the eye on a really high level. If you combine it with any of your favorite skirts, it will not disappoint! For $6, how can you say no?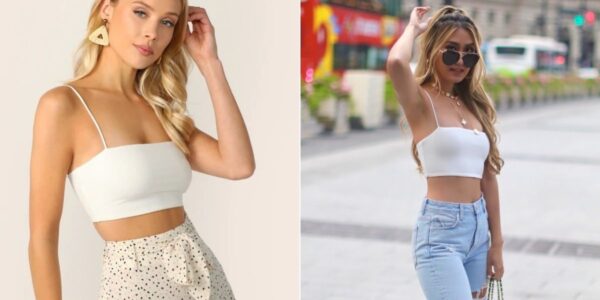 Spaghetti Strap Cami Top: SHOP NOW (XS, $4, 900+ ★★★★★ reviews) TOP SELLER, SELLS OUT FAST!
Another instant favorite that I've already had multiple photoshoots with.  The material is actually flexible, smooth and NOT SHEER. It is super comfortable to wear, and you will all the while allow your skin to breathe and bathe in vitamin D! This is unheard of for $4.  Anyone can look like a Hollywood movie star with this on! Simplicity always attracts the eye. Get it before it's sold out!  
Are you a fan of wavy texture?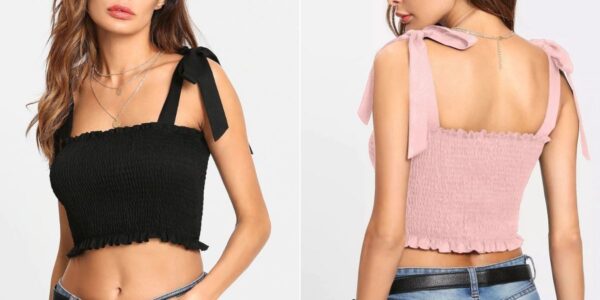 Shoulder Tied Crop Top: SHOP NOW ($8, ON SALE, 250+ ★★★★★ reviews, comes in white as well)
This top is too cute! The wavy texture adds a subtle and yet strong lady vibe! I cannot get over the shoulder ties and will definitely be getting more colors. Above all, you can get this in all shapes and wear it with anything denim, I guarantee you that you will look dreamy!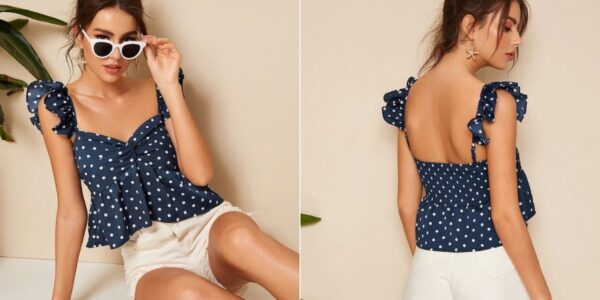 Navy Polka Dot Top: SHOP NOW ($8, 600+ ★★★★★ reviews, also comes in white)
I love the colors of this top. Though this is cute and looks exactly like the photo, just be aware that it does NOT hug your waist.  Just like in the photo, it will make your mid section flare out. It is important to be careful of these little technicalities. If that's a look you can pull off, then totally go for it! :)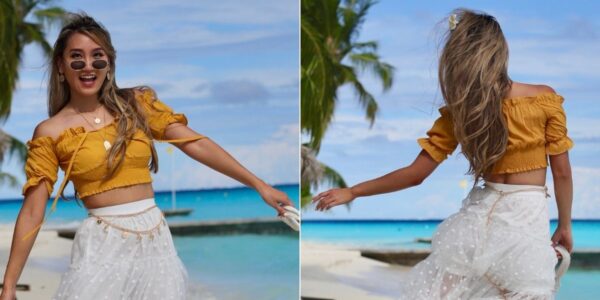 Mustard off shoulder top: SHOP NOW ($8, 270+ ★★★★★ reviews, also comes in white, black, and rose)
I absolutely adore this color, it gives off such a summer energy! Yellow, beautiful and radiant like the sun. Wearing this along with a skirt of any kind makes you feel like a princess in a Disney movie! This crop top shape can satisfy all body types, and for only 8$ you will feel just like an older Moana in a distant island. 
Dark tops to the rescue!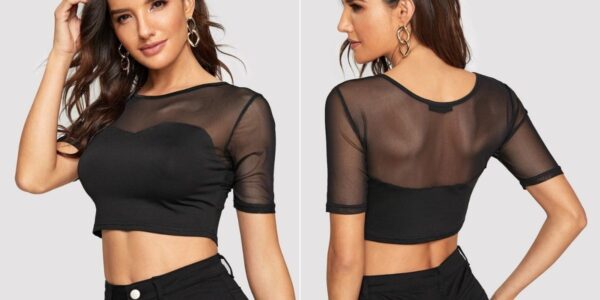 Black Mesh top: SHOP NOW ($8, 5 ★★★★★ reviews)
If you like boss lady looks, then look no further. This black top is all you need for the Friday nights you spend downtown with your friends. Do not forget that the color black is widely acclaimed to shape your body and point out your curves in the best way!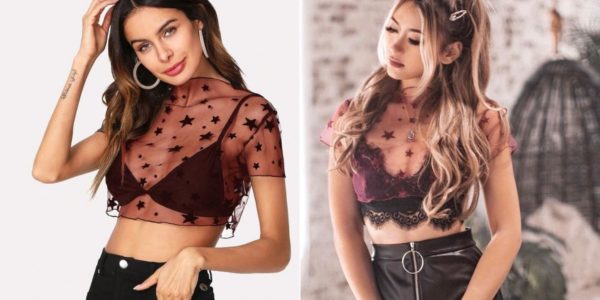 Mock-Neck Star Sheer Crop Top: SHOP NOW ($4 Size XS, 33 ★★★★★ reviews)
Hit or Miss; look at my actual photo carefully; the top is a bit smaller on me. Make sure you're comfortable with the length of this sheer top! The little stars present in t-shirts such as this combined with the lace make them a rather unique product. I really liked how the material felt against my skin. Additionally, it really comes down to the bra you decide to combine it with, so be careful what you pick!
Perhaps something more colorful?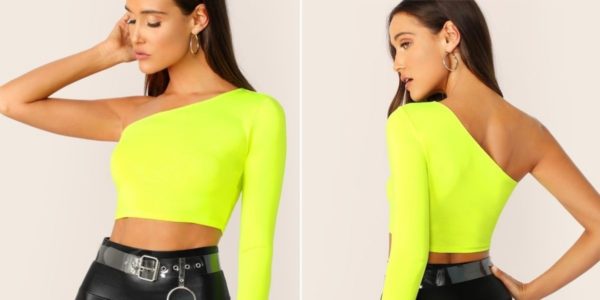 Neon Yellow One Shoulder Crop Tee : SHOP NOW ($4 Size XS, 487 ★★★★★ reviews, also comes in black)
The reason why I like tees like this is that it has an abundance of danger attached to it. Do you feel like going outside of your comfort zone and trying neon colors? Well, you have definitely come to the right place. There are cases when you do not particularly like the color yellow, hence why there are many others you can choose from. If you're a fan of black and white and are not one of experimenting, it is all in there. The color is superb to wear by the beach as well! All for $4!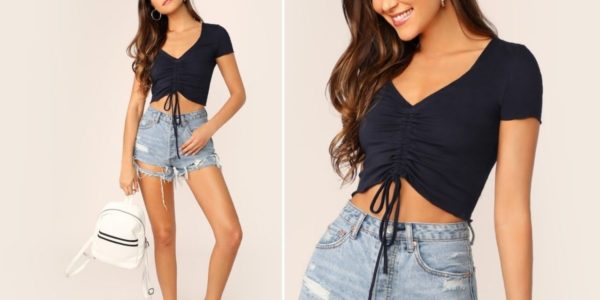 Drawstring Front Crop Tee : SHOP NOW ($6, Size XS, 250 ★★★★★ reviews, also comes in white)
I really liked how classy this shirt stays on you. It goes perfectly well with a cute pair of shorts! How can you say no to that for only $6?
That's it for now.  I've truly tried to capture here my true and tested SHEIN pieces.  Please let me know how your experience was with them, or if you haven't taken the first try just yet.
And don't forget, save 15% with my coupon code, KERINA15
PIN THIS: