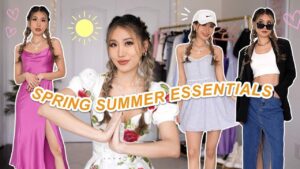 Shop via pics below or go back to YouTube
Shop my looks here ➜ https://thredup.com/x/kerina
✨ DISCOUNT CODE: KERINA for an extra 40% off your first order AND free shipping! ✨
Hey guys, I'm excited to share my Spring Essentials with you. First up is a non-see-through white t-shirt with a corset trim that pairs well with high-rise jeans. I also show a logo t-shirt from Calvin Klein to pair.
Next on the list is spring dresses, including a blue and white striped babydoll dress from Abercrombie & Fitch that I scored for just $10. I also show a more modest option with a cardigan and tote bag, and dressed it down with a denim jacket.
Overall, these spring essentials are versatile and affordable, and can be styled in multiple ways to fit your personal style!  Watch the full YT video for all the essentials!