Before we get to the good stuff, feel free to fill out this simple poll to let everyone know how your experience has been so far with shipping:

Loading ...
UPDATE FOR 2022: finally things are back to "normal", or at least the new norm. 
Let me simplify it for those waiting in the USA;
Shipping now normally takes 10-15 days (I include processing time in the math)
Express is a few days faster and more reliable (but does not work for PO boxes)
The long details can be found here
—
UPDATE on COVID-19 2: it's been almost a year since peak COVID and I've been getting my packages to Canada consistently now!  There is always duties for me since I order a lot for my Try on Hauls.  I now simply the base DHL service and it can take anywhere from 8-12 business days to arrive.   I order about 30-40 items PER MONTH from SHEIN to Canada for reference.
UPDATE on COVID-19: the COVID situation has seriously hurt SHEIN's shipping facilities.  I've managed to contact their mid level employees directly and they are taking COVID very seriously.  A break-out means the entire organization will be shut down.  Warehouse staff do not want to go to work and those who do show up have to follow strict disinfection procedures.  It got so bad that they had to block orders for 1 week.
Not only that, with malls closed, shoppers are stress-buying SHEIN like crazy!  Virtually everything I review from SHEIN has been sold out.  I know thousands of orders have been delayed as well.
Let's just remember there is a humanitarian crisis at hand.  What's important is you stay safe and do not expect things to operate the way they were before. 
The good news is that things are starting to clear in the pipeline.  People are still shopping like crazy.  I've been told that inventory will continue to fly off the shelves for the foreseeable future.
Be well <3
-Kerina
—
As someone who has reviewed THOUSANDS worth of dollars of SHEIN items on my YouTube Channel, I need to speak up here.  I don't want you to have a bad experience shopping.  When it comes to shipping and duties, I'll just tell you how it is, whether SHEIN likes it or not.
True Shipping Time
True shipping time includes the usual 1-3 processing time in the fine print.  More on this later!  For now, see how shipping times stack up for your own country:
| | | | | |
| --- | --- | --- | --- | --- |
|   | Standard | Cost | Express | Cost |
| Singapore | 6-13 | $4.5 USD | none |   |
| United States | 7-11 | $3.99 | 3-7 | 12.90 USD |
| Australia | 7-12 | 7 AU | none |   |
| India | 7-14 | Free at ₹720 | none |   |
| U.K. | 8-13 | Free | 4-10 | 12 GDP |
| Germany | 8-13 | Free | none |   |
| France | 8-13 | Free at €12 | none |   |
| Netherlands | 8-13 | 4.20 EU | none |   |
| Canada | 8-16 | Free at $12 | 5-10 | 26 CAD |
| Italy | 11-16 | 4.5 EU | none |   |
| Mexico | 16-23 | Free at $300p | 4-10 | $310p |
| Turkey | 21-33 | $4.50 USD | none |   |
| Russia | 21-38 | 270 RU | 8-18 | Free at 7,835 |
| Brazil | 31-48 | $7 USD | none |   |
All days are BUSINESS DAYS
We got the data by adding 1-3 processing days for each country from SHEIN.com
The Shipping Fine Print
Go to the Shipping section on the SHEIN website and you will find:
"Shipping Time does not include a 1-3 day processing period" – SHEIN.com
This is common for online stores.  Even if you pick express, it will take 1-3 days just to process your order.  This catches a lot of people off guard!  Most people who order express are already in a rush.  If they don't know about processing periods, they're going to leave a review like this:

Keep reading and you'll be well versed in online shopping.  This is someone who knows a bit more: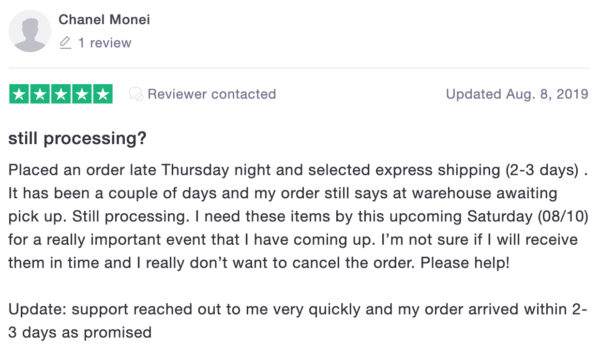 Ew, Why Do We Need Processing Time?
I've hand-shipped for my own boutique store.  I've met the CEO of Fashionova and toured their LA main warehouse.  I'll tell you what's really going on.  There are a few things big brands need to verify before hitting "ok":  
First, they need to make sure your credit card / paypal is legit.  There is a lot of online shoplifting; it costs the industry billions of dollars and hurts small stores like mine even more.  Online thieves are smart; they can steal credit cards, hide their IP addresses and use fake emails.  This issue can stall an order for days to get investigated.
Second, they need to confirm warehouse locations.  Mega stores like SHEIN, Fashionova, F21 all have multiple warehouses where your items might be scattered.  Not everyone has robots like Amazon, real humans need to walk and pick your clothes.
Lastly, these mega stores employ people that need a decent working life.  Bigger brands have more papers and general business forms to fill.  The staff needs to go home at 5pm or 6pm, even workers in China need to sleep eventually.  Processing naturally takes longer for larger and more complex orders.  It doesn't matter where you ship your order to.  Case in point; processing time can take 2 days longer if you want to ship to Hong Kong.
So you see, it's reckless if a big brand is approving your order on day 1.  The only companies that can do things like are probably Walmart or Amazon; who can afford to lose money on shipping.  In fact, shipping is Amazon's
least profitable
activity!
Taxes and Duties
You won't learn the harsh realities of taxes and duties until you get caught.  This is because in most cases, it's totally random, so dumb right?!  One popular Canadian blogger's order was charged a $30 duty on an $160 value order.  The government charged 18% in this case.  Read, government!
Here is an excerpt from the Canadian blogger:
"I got automatically upgraded to Express Shipping. My order arrived in 5 days. The big issue was that I got to pay duties: 30$. Before ordering, I checked the FAQ section and noticed that no duties would be charged. Here is a link to the FAQ [sic: FAQ is no longer on SHEIN.com].
I contacted the customer service, and they said that since I choose express shipping, duties could be applied. The refund offered to me was only 15$.

What a disappointment!" – Myriam & The Budget
In the end, she only paid $15 on $160, but had to jump through hoops.  Here's my tip for duties as someone who receives international shipments daily;
Pay our lovely country it's share of taxes
Without this system, Canadian-made goods would have zero chance of survival.  We might not have Lululemons if it wasn't for duties!!  Also, our non-Canadian goods make a bigger carbon footprint.
You probably think if you get shipments labeled as "gift" or "sample", you can avoid taxes.  However, the agents also look at the perceived value of goods. 
The only way to avoid duties 100% is to have a friend pack your shipment in their suitcase while they happen to fly to you.
Want some news?  Desperate to save you duties, SHEIN recently got in trouble from
India Customs
to the point where entire sections had to shut down for refunds.  Hey, people love affordable fashion.
Shipping Time to USA
Do not worry, USA will always have the fastest and cheapest cross-ocean shipping rates in the world.  SHEIN has design houses and warehouses all around the world, USA included. 
Expect to wait 11 business days MAX for a standard order. 
Shipping Time to CANADA
I'm based in Canada and never felt like shipping was an issue with SHEIN.  Keep in mind I've ordered 20 SHEIN outfits for one video!  The logistics of gathering over 40 pieces must have been difficult enough as it is, but I've never had a hiccup yet.
Expect to wait 16 business days MAX for a standard order.
Time to UK, Germany, France
I find northern Europe's parcel system to be quite fast and reliable.  The only disadvantage is that Euro's and Pounds are quite expensive.
Expect to wait 15-17 business days MAX for a standard order.
Hello? What About The Rest of the World?
I don't mean to leave you guys till last!  This is a tough question to answer because every country is so different.  Instead of trusting what a store's website says, I will suggest what I suggest for my own customers; make a test order of something cheap.
Pick out something that can easily be gifted if you don't like it.  This is one thing that's good about fast fashion, it's the cheapest it should ever get!
Ok ok ok, What Next?
I have so many reliable SHEIN reviews on this blog (search SHEIN on top right) or you can see a popular post here.
Want some Side by Side comparisons? Check this summer tops post here.
I also have a whole Youtube SHEIN review playlist where I talk about the fabric, the stretch, the styling… everything!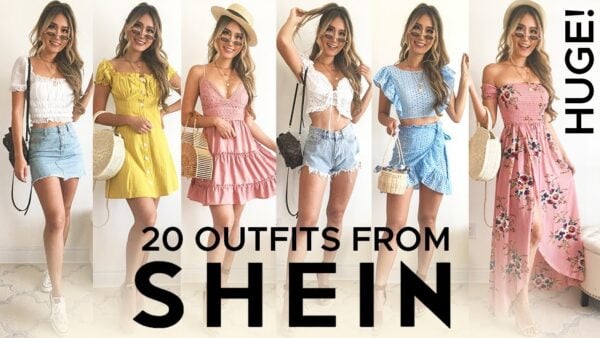 If you thought this was useful, please share :)