Fall's here, and you know what that means—time for a wardrobe update! Layering is probably my favorite part about autumn fashion, as it's all about having fun and trying different aesthetics. Even though I will always have a soft spot for easy and breezy summer dresses, there's simply a lot more versatility in the fall. And you already know where we love to shop — SHEIN, of course! It's affordable, accessible, and gives you plenty of options. However, finding the perfect pieces can sometimes be tricky, especially if you never ordered from SHEIN before. But to make your shopping experience as smooth as silk, we've rounded up some top-selling SHEIN outfits that are both cute and have rave reviews.
Disclaimer: Not all pieces are tried on yet.  Some products may already be sold out due to season.  Ideas are ideas only!
Light Academia

Fall is also back-to-school season, which for many of us also brings a sense of nostalgia. If you're longing for those high school or college days, why not sprinkle some of that vibe into your outfit? The timeless appeal of academia aesthetics is always a hit during fall, but this year light academia is especially trendy. And that's exactly what this outfit embodies—a classic pleated skirt, a crisp white button-down, a beige suit vest, and the perfect brown boots and bag. You will bring a slice of that private school chic into your everyday life!
Vanilla Girl

You've probably already seen the vanilla girl aesthetic trend on TikTok. And it's not just about what you wear — it's a whole lifestyle. I must admit, I'm a fan too! I mean, how adorable is just the name? And who could resist the allure of all those all-beige outfits, scented candles, hot girl walks, and snug boots. If you're on the lookout for a look that encapsulates this vibe perfectly, look no further. We've got an outfit that even the ultimate vanilla it girl, Matilda Djerf, would be spotted wearing. Check out the shopping links above!
Quiet Luxury on a Budget

Sofia Richie had in a chokehold a few months back with her newfound Old Money/Quiet Luxury aesthetic. Perhaps it was the thrill of witnessing a girl glow up after leaving the wrong guy and meeting her soulmate, or maybe we just grew tired of the endless flashy fashion trends. Whatever the reason, modest yet elegant looks have never been as trendy as they are today, even amongst the younger generation. But because not everyone has an "old money" bank account, we've found some pieces that match that vibe on SHEIN.
Balletcore

I have to admit—this look might just be my personal favorite. I mean, who didn't daydream about being a professional ballerina? I know that I certainly did. And though that dream didn't quite materialize, I can still channel that graceful spirit into my adult wardrobe, all thanks to the Balletcore aesthetic. You've probably already noticed that ballet shoes have been all the rage lately. But we didn't stop there. We completed the ensemble with leg warmers, snug leggings, and an adorable combination of a ballerina-inspired shirt and cardigan.
Cozy Girl Fall

If there's one thing I aim for during fall, it's to feel warm and cozy. But that doesn't mean I'm willing to sacrifice being trendy, either. Who says you have to choose, right? Lately, the Cozy Girl Fall trend (a counter to Hot Girl Summer) has been taking TikTok by storm, proving that you can snuggle up in a comfy sweater and still look absolutely adorable. To round up the look with a touch of Gen Z-inspired fashion, we decided to add a pair of edgy combat boots and baggy cargo pants.
Barbiecore Meets Quiet Luxury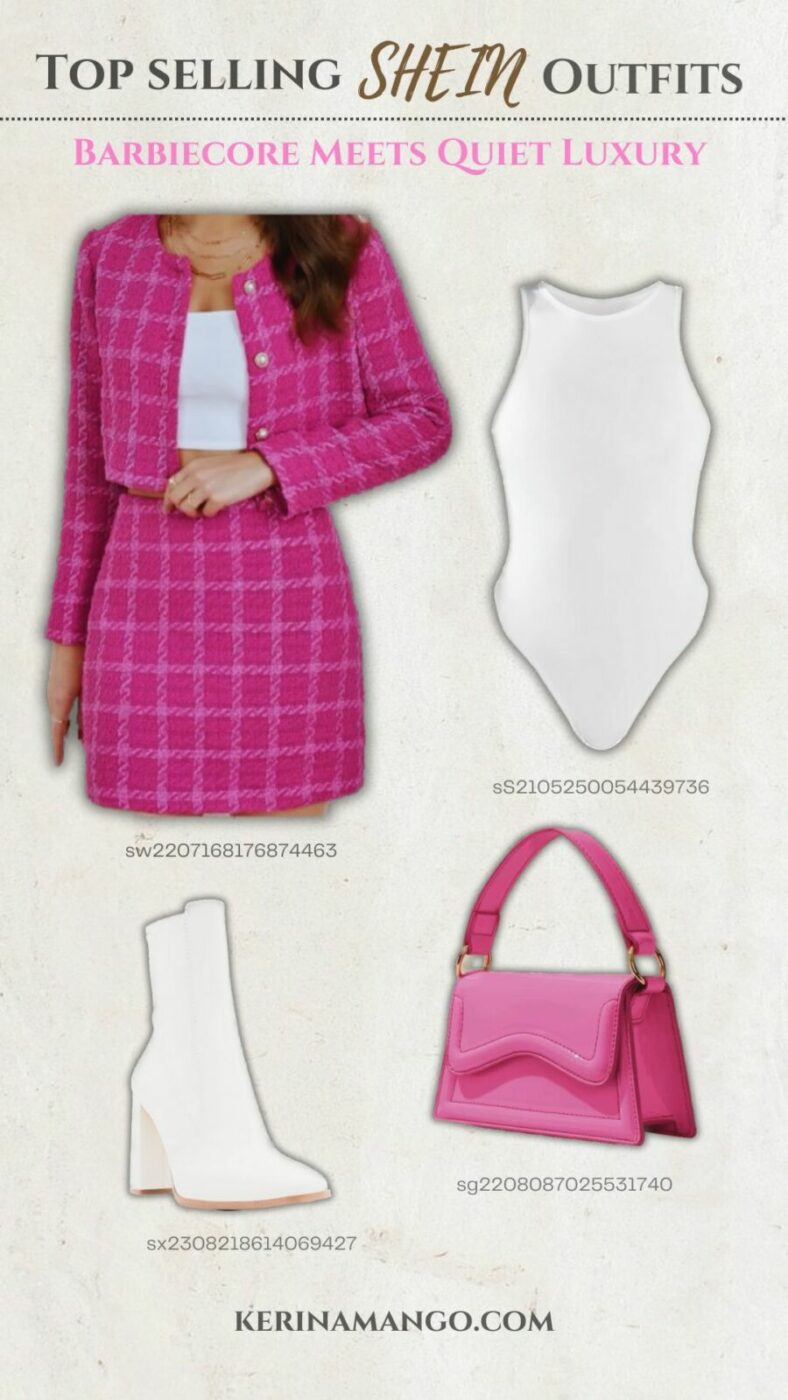 Even though the Barbie movie hit the screens back in July, we just can't seem to let go of the whole Barbiecore trend! I mean, let's face it, a splash of bright pink has never hurt any outfit, has it? But since we're all grown-ups here, juggling big girl jobs and responsibilities, we decided to adjust the aesthetic and make it a bit more office-appropriate. And guess what we stumbled upon? The perfect pink tweed blazer and skirt set on SHEIN! But the best part—this Barbie won't even have to break the bank to get her hands on it, as it's only $40.
COPYRIGHT: ALL MATERIALS BELONG TO @Kerina.Wang and KerinaMango.com