As of March 13, TEMU is now shipping to Canada, Australia, New Zealand, and USA.  I will be ordering from the Canadian site directly this month and showing the results on my youtube.
TEMU has an app and a website and offering low prices and limited free shipping options.  Usually shipping is expensive and unreliable for us Canadians, so we'll see how it goes!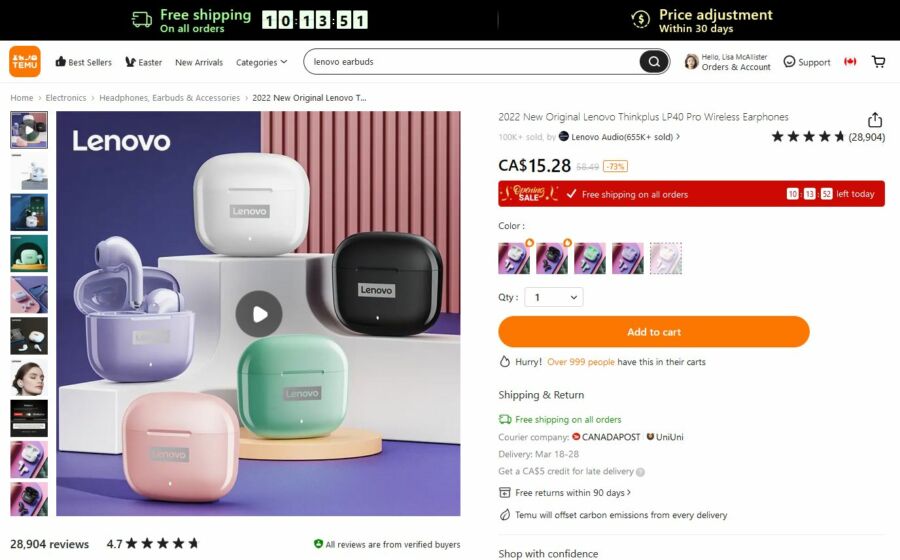 What is TEMU?
They're a Chinese e-Commerce company that used to operate within China as kind of a local Amazon.  They are trying to expand into western markets as a new website & app.  I'm finding the prices extremely good and they do carry reliable brand names like Lenovo.  As usual, you get what you get with affordability and shipping times on these kind of services.  So look out for my upcoming hauls and reviews!
TEMU Coupon Code?
I've only managed to get one so far and will keep updating this post if I get more!
Temu Discount Code
30% off at $19, capped at $25
spry754
Pros and Cons of Using TEMU
Pros
Cons

Super affordable, essentially direct to factory vendor
The same products on Amazon come directly from these TEMU suppliers, so you are skipping on the middle man
Big brand names available, like Lenovo
Backed by a big company, so they are not going anywhere
Nice website and app, easy to navigate with lots of sales

Longer and fragmented shipping vs other e-Commerce marketplaces, expect delays and different packages
Products sell out quickly!
The selection is still somewhat limiting
Not sure about the reviews, hence you might need to watch Try On Hauls like mine hehe
Trying Out TEMU Stuff so You Don't Have To!
I've contacted TEMU to send me some products for review, look out for it on my Youtube here
To see a bit of the "worth it" items I've reviewed, see below:
Pin Pic totally unrelated :)